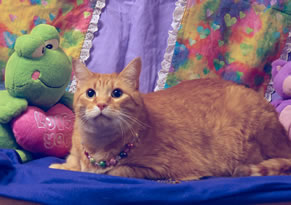 And the winner is… Georgie! That's right, thanks to his awesome Sweetheart team, Georgie took first place this year, followed by Patch and Cissy taking the silver and bronze.
The best news of all? Because of our campaign, four of our sweethearts – Donut, Snowball, Abby, and Zeller – have all found their forever homes! We couldn't be happier for them and we hope they have many years filled with warm sunlit windows and plenty of tender loving care.
We are so appreciative of all of our supporters, and our kitties are overjoyed that this year has been one of the most successful sweetheart contests in ICS history! That's right, we raised over $6000 to help the kitties through your generous donations, gifts, and "votes." We'd like to thank all of you for your support, and the sweetheart kitties thank you as well!